Booking Information
EXHIBITION BACKGROUND
Josh Borne has performed countless exhibitions for businesses, expos and venues since 2008. As a highly ranked competition athlete, Josh is guaranteed to provide the most entertaining and highly technical tricks the streetbike freestyle industry has to offer. Given his extensive experience, he is more than qualified to showcase freestyle excitement in an extremely safe and professional manner.
Josh has traveled across the nation and around the globe to perform and entertain spectators of all ages and cultures. He has been featured numerous times in magazines such as Super Streetbike, Motores Del Puru, Stunt Ride, Two Wheel Tuner, Streetfighters, Extreme Machines, Street Monsters, and many more. He has also been featured on Speed Channel, Versus Channel, and Discovery Channel ("Superbikes", "Stealth Rider", "Pinks All Out", "Ultimate Car Build Off", "Inside XDL") and made appearances on ESPN and ESPN 2. Josh utilizes his background and experience to provide the most extraordinary streetbike performance imaginable.
Borne Freestyle Entertainment's schedule fills quickly, so do not miss this opportunity to witness amazing streetbike freestyle at its best….book your event today!
EXHIBITION EXPERIENCE
Borne Freestyle Entertainment has performed over 1200 live exhibitions throughout 39 states and 7 countries for more than 2.5 million spectators. The following are a few examples of the prestigious events where Josh Borne has performed:
– Moto-GP Superbike Racing
– AMA Racing (Superbike, Supermoto, Supercross, Motocross)
– IHRA (Monster Jam, Drag Racing)
– NHRA Drag Racing
– Progressive International Motorcycle Shows
– South American ExpoMoto
– Switzerland Motorcycle Expo
– Championship Auto Shows (World of Wheels Custom Auto Shows, Autorama)
– Easy Riders Bike Show Tour
– Daytona Bike Week
– Daytona Biketoberfest
– Myrtle Beach Bike Week
– Detroit Bike Week
– Ohio Bike Week
– Arizona Bike
– State and local fairs and festivals
– Music Festivals
– Dealership open houses and special events
– Charity events and many other entertainment venues
EXHIBITION BASICS
– Each Exhibition showcases the best tricks from the extreme streetbike freestyle riding industry.
– Full show format includes educational breakdown of pro competition series and exciting jam sessions.
– Most venues generally schedule 3 shows per day – additional shows can be negotiated if requested.
– Each show consists of 20-25 minutes of extreme freestyle and drift racing excitement.
– PA System set up with DJ and music.
– Announcing and crowd interaction throughout performances.
– Product raffles and give-aways.
– Post show "meet and greet" with audience for autographs, questions, and photos.
– Pre and post show media interviews, video sessions and photo opportunities.
– Number of shows and show scheduling can vary and will be negotiated prior to the event.
– Borne Freestyle Entertainment provides full liability insurance coverage for exhibitions.
EXHIBITION PROVISIONS
– Riding area: a paved, smooth, flat, level surface is ideal. Surface should be clear of debris and any other foreign objects that may affect good traction.
– Indoor shows on polished concrete are possible using special traction additives.
– Outdoor shows on dirt are also safely possible using special tires.
– An ideal riding area would be 25 to 100 feet wide by 100 to 500 feet long (this however can be much smaller and will be negotiated upon request).
– Riding area is negotiable and can vary. Generally, the larger the area, the more extreme the show can be. However, small demonstrations can be performed and negotiated.
– Audience must be separated from the exhibition area by some form of barrier.
EXHIBITION EXPECTATIONS

WHEELIES: Tricks performed on rear wheel of motorcycle
Examples: Fast straight line combination wheelies (tank wheelies, foot drag jumps, etc.), circle wheelies, circle combination wheelies, no hands, stall jumps and much more…
STOPPIES: Tricks performed on front wheel of motorcycle
Examples: High speed long distance, target helmet taps, wall and prop parks, 180 degree turn-arounds, spreader, one-handed, crowd interaction with helmet kisses and helmet touches, etc…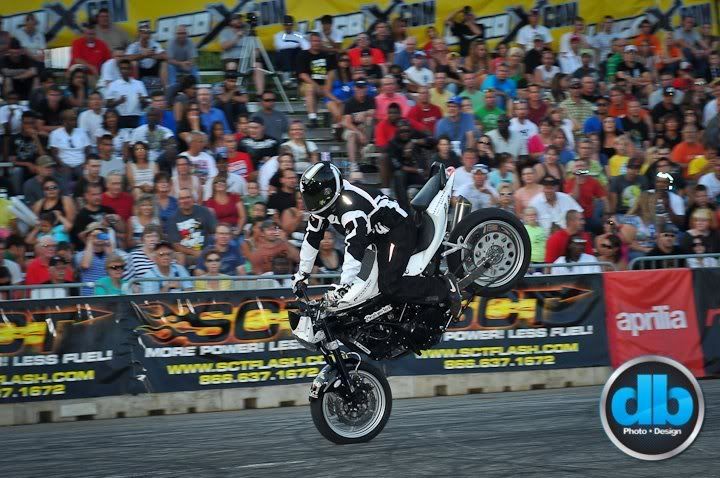 ACROBATICS: Balance defying tricks while motorcycle is in motion on two wheels
Examples: christs (standing on tank/seat), elevators, no handed merry-go-rounds, hand stands, switch-back sets (riding motorcycle backwards), etc…
BURNOUTS: Tricks performed while rear wheel is spinning and smoking
Examples: circles, figure 8′s, stand stills, tank combinations, crowd interaction with burnouts around and up close with spectators, etc…
DRIFTING: Drift racing demonstrations with pro-competition drift racing motorcycle
Examples: All rear wheel sliding action with no brake application. Similar to car drifting but with two wheels
EXAMPLES AND FEEDBACK:
For performance examples, please visit our Video Media page.
For performance feedback, please visit our Feedback page.